What's different about litePlayer
™
?

easy installation and setup
»

upload one file and add a few lines of code to your webpage

works with all major audio formats
»

natively supports MP3, AAC, M4A, FLV, and more [ details ]

fully skinnable design
»

choose colors for the built-in graphics or use your own images

optional external API
»

use custom scripting to control more complex applications

browser/platform-independent
»

works with all major browsers on Windows, Mac, and Linux

extremely small footprint
»

loads once and loads instantly with no impact on bandwidth
»

one 10kb file powers unlimited audio players on your website

1. Upload our 10kb file to your website.
2. Upload your own sound files.
3. Copy-and-paste a few lines of code.
4. Enjoy streaming audio instantly!


A picture is worth a thousand words,
and our interactive demos will leave
you speechless. Check 'em out!


• Try it FREE with no time limits!
• Get a license key for just $22.99.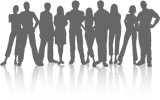 The litePlayer™ community grows larger everyday!

• Indie Bands
• Online Retailers
• Radio Personalities
• Webmasters
• Stand-Up Comedians
• App Developers
• Voiceover Artists
• Podcasters
• Music Producers